StudioGraphia's Sustainability Efforts
We want to make a positive difference to our local communities and to the planet. Our business practices are built around the intention to minimize our footprint, leave things better than we found them, create order out of chaos, and defeat entropy. If you have suggestions for ways we can better meet this mission, contact us and share your insights. We are all in this together, after all. We take our responsibility seriously.
StudioGraphia Headquarters use solar power, solar hot water and rainwater harvesting systems installed by Technicians for Sustainability.
Read more about Heather and her Earth Helpers at the TFS website.

Solar PV
System Size: 9.64 kW
Estimated Monthly Production: 1429 kWh
Module No. & Type: 18 Schott 175 Watt and 20 SunPower 327 Watt
Inverter Type: 1 GT3.0 and 1 Power-One-PVI-6000-OUTD-US
Mounting & Pitch: Roof mount, 32° and 25° pitch
Monthly Environmental Savings: 1430 lbs of Coal, 3,180 lbs of CO2, 5.4 lbs of NOx, 9 lbs of SO2, 714 gal of H2O
Output URL: Click here for live stats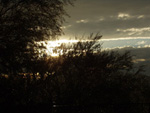 Solar Hot Water
System Type: Glycol Sunearth Solaray TE32P-80-1
Mounting & Pitch: Roof mount, 65° pitch
Closed loop system produces approximately 400 KWH/month.

Rainwater Catchment
4x8 corrugated culvert/cistern holds approximately 650 gallons of water, and receives about 520 gallons per inch of rainfall.
5x8 corrugated culvert/cistern holds approximately 1,000 gallons of water, and receives about 480 gallons per inch of rainfall.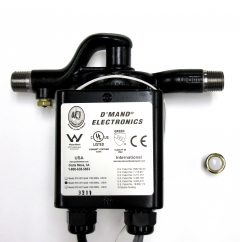 Water Recirculation Pump
Metlund D'Mand System, Model # STS 70. At the push of a button, the STS-Series pumps cold water sitting in the hot water line into the cold water line and back to the water heater. The "temperature sensor" automatically shuts off the pump allowing the pump's IFC (Intergral Flow Control) Valve to close when hot water arrives at the fixture. Now you have hot water within seconds at the fixture and anywhere else plumbed off of the main line. No more water wasted, waiting for hot water to arrive at the faucet! Gallons and gallons saved.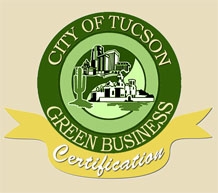 StudioGraphia is pursuing Green Business Certification. Stay tuned!
StudioGraphia's website is hosted by iPage sustainable web hosting services. The servers, offices and data centers supporting this website are powered by 100% wind energy. The company's energy efficiency is equivalent to planting 2,390 acres of trees or removing 510 cars from the road.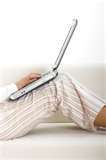 StudioGraphia associates and subcontractors telecommute from their homes in various locations across the US and abroad, using internet technology to support project work, meetings and correpondence. Most of our clients are based in New York City, but we do business all over the world.

StudioGraphia makes every effort to recycle paper, printer ink cartridges, shipping materials, manuscript/galley pages, electronic devices like cell phones and computers, and everything else we use in the process of doing business. Purchasing preference is always given to sustainable products where available.

StudioGraphia associates and subcontractors support and promote local businesses in our various communities. Company policy is to use independent, local service providers wherever possible. We follow the Go Local model, even where formal cooperatives do not exist--yet.
StudioGraphia is a member of Local First Arizona. See our directory listing here.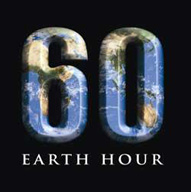 Every year, StudioGraphia takes part in Earth Hour, sponsored by the World Wildlife Fund (WWF).

Proud Nominee: Arizona's Greenest Workplace Challenge, MrsGreensWorld.com
How does this company exemplify the concept of "reducing"?
StudioGraphia's sustainability practices focus primarily on reducing our negative impact on the planet in work and household life. We proudly supply 100% of our energy needs with solar photovoltaic panels and solar water heating. We harvest 1,000 gallons of water per inch of rainfall, significantly reducing our reliance on community water supplies for landscaping. Our guiding Action Items are adapted from the Arizona Green Business Certification Program Sustainability Actions Checklist (See http://cms3.tucsonaz.gov/files/ocsd/GBC_Checklist_Form_Jan2013.pdf). We have determined that 75% of our specific actions involve reducing the use of resources, preventing resources from having to enter a cycle of reuse and recycling in the first place.
How does this company exemplify the concept of "reusing"?
Fifteen percent of our sustainable business practices involve reuse/recycling. If we can't do without a product, resource, or service, we seek out locally sourced, respectfully used, planet-friendly options. When we're done with items, we donate them to Tucson's local Habitat for Humanity, Youth on Their Own, Disabled American Veterans, and Big Brothers/Big Sisters. We take advantage of community recycling services, including Waste Management, The Fairfax Companies Green Waste Recycling, plastic bag recycling at grocery stores, and other resources recommended by Tucson Clean and Beautiful. We avoid using disposable products like paper towels, napkins, plastic bags, and other items that can be replaced by washable cloth or durable storage materials.
What is this company's recycling policy and practice?
Compost organic food waste.

Donate, sell, or exchange unwanted usable items.

Purchase used or refurbished equipment and/or furniture.

Recycle batteries and toner.

Reuse file folders, binders, envelopes and other office supplies.

Use recycling bins; recycle plastic bags at grocery stores.

Use letterhead, envelopes, business cards, toilet paper and tissues with a minimum 30% post-consumer material.

Use pool filter backwash for landscape watering.

Use recycled content, refurbished, or salvaged materials for property improvement or remodeling.

Used printer paper is repurposed for scratch paper, notes, or printing draft documents.

StudioGraphia has plans to install a system to use laundry water and other grey water for landscape watering.
How is this company engaging and informing consumers and employees about the 3 "Rs" and other sustainable practices?
Measuring progress is an essential element of determining success. 10% of our efforts involve monitoring and education. Our solar photovoltaic data monitoring system helps us make better decisions to reduce energy use. We are featured in the Technicians for Sustainability residential portfolio: http://tfssolar.com/11158/meet-heather/. We log vehicle and air miles traveled for annual review. We stay informed about water efficiency practices, proper waste reduction, composting, irrigation, landscaping and recycling practices. We have completed 33% of our action items, 49% involve ongoing practices, and 18% are in planning stages. We will continually refine our efforts as we discover new opportunities to support sustainability in our community.
What else would you like us to know about this company?
We invite others to join us in making sustainability a way of life in their home-based businesses. Small changes add up to big results with consistent practice.
Do business with other "Green" vendors/services. See the Southern Arizona Green Chamber of Commerce for like-minded business people: http://www.sagcc.org
Install improved insulation for roof, hot water pipes, hot water heaters and storage tanks, and exposed HVAC ductwork.

Replace inefficient windows and doors with double pane energy-efficient models.

Landscape with native, drought tolerant plants. Use irrigation/faucet timers, adjusted seasonally. Regularly inspect irrigation system for leaks. Use passive and active rainwater harvesting.

Monitor/adjust driving practices. Accomplish multiple tasks per trip. Avoid heavy traffic commutes. Patronize services and businesses in the neighborhood.

Install a solar water heater. Upgrade to high efficiency showers, toilets, and faucets.

Run dishwashers and washing machines with full loads.

Sweep instead of washing/mopping, especially outdoors.

Shade sun-exposed windows/walls to mitigate the effect of direct sunlight, using sunscreens, shade trees and shrubbery. Weather stripping seals windows and doors to close air gaps.

Turn off equipment and lights when not in use.

Upgrade HVAC and/or evaporative cooling systems, maintain them regularly.

Use programmable thermostat for central air conditioning and heating systems. Set thermostat at 78 deg. F. for cooling and 70 deg. F. for heating.

Use daylight to reduce the need for task lighting. Use ceiling fans to promote air circulation and reduce need for air conditioning.

Use flat-screen LED monitors, and hardware programs that automatically turn off idle monitors, computers, and printers.

Use electronic rather than paper files, electronic forms/contracts and online billing/banking transactions.

Take advantage of telecommuting. Hold meetings virtually, even if clients live in the same town.